Crabber:
George Bochanski III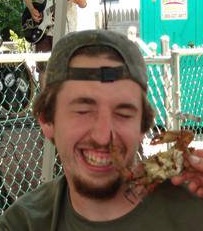 Crabber Biography:
George Bochanski III is part of the crabbing Bochanski clan. After making his debut aboard Big George during the inaugural Assault on Patcong Creek in 2010, George returned to the water 2013.
George made headlines the day he was born in 1987 by tipping the scales at a whopping 13 pounds, 7 ounces. He hopes to make more news by having his name etched on the Assault on Patcong Creek Largest Crab trophy.
FACTS:
Hometown:

Delaware County, PA

Birthdate:

August 17, 1987

Nickname:

GB3

Boat:

House Poor

Years Participating:

2010, 2013, 2014, 2015, 2016, 2017

Awards:

None