The Party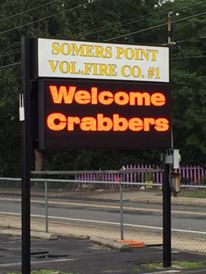 A major highlight of the Assault on Patcong Creek is the after-party where the competitors, sponsors, volunteers, friends, family, and fans enjoy food, music, and fun.
It has become tradition for all of the crabbers participating in the tournament to contribute their catch to the steam pot for consumption at the party. In 2016 a record 25 bushels were caught and steamed a the event.
Crabs are just a small sampling of the menu, which features fresh-roasted pigs, hot dogs, sausage, beer, soft drinks and dozens of other dishes, salads and desserts—contributed by the party attendees.
In 2013 over 170 people attended the party and a local Somers Point, NJ band—the SSP's—was added to provide entertainment. That number climbed to over 100 people crabbing from nine different states and 250 +/- people attending the BBQ in 2014. 2014 also marked the addition of magic from magician Culler Magic.
In 2015, weather and high interest forced the after party to move to the indoor/outdoor venue of Somers Point Fire Company #1. The weather didn't stop the event from being the biggest to date, with more than 120 crabbers from nine different states competing and well over 300 people attending the barbecue. 2015 also marked the event's first-ever crab race!
2016 saw over 600 people attend the party, a new expanded race track, a midway with environmental exhibits, educational displays and vendors, and a silent auction.
2017 additions of the post-tournament party include the Kelchner's Food Products Raw Bar, an expanded midway, antique boat and outboard motor displays, historical trivia and art/photography displays.
Note the post-tournament party is an Invitation-Only event open to participants, volunteers, sponsors and invited guests. However, if you aren't able to crab, and still want to attend the party, you can become a member of Patcong Creek Foundation at the Blue Claw Club level to receive two tickets to the party.
To learn more about how to participate in the Assault, email us at info@AssaultOnPatcongCreek.com.